During this time at home as we navigate the coronavirus, I have had time to reflect on how fortunate I really am. Part of why I am so grateful is because of the community I live in! I reside in Gig Harbor, and what a place to call home it is. I am surrounded by trees and water and fresh air. Our water is delicious to drink, and our streets are safe.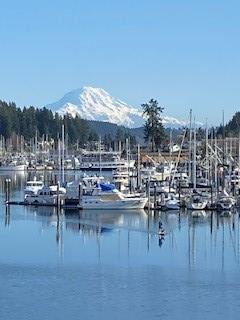 Last week, I needed to be out of my house for several days as we had new hardwood floors installed in our home. I stayed at The Waterfront Inn on Gig Harbor Bay, and what a treat it was to stay there! I had an absolutely darling room with a view, a gas fireplace, and a super comfortable bed. They also offer kayaks and paddleboards! Owner Patsy could not have been any more accommodating.
While staying at the Inn, I enjoyed meals at The Marketplace Grille and The Devoted Kiss Cafe. Anyone who lives in or visits Gig Harbor simply MUST eat at these fine establishments! The food is delicious at both. At the Devoted Kiss (owners are Devon & Christina Dengler), I prefer to order breakfast even if I'm there at lunch time! They prepare poached eggs perfectly, and the applewood thick cut bacon is amazing. Staff are all super friendly and efficient. At the Marketplace Grille, my mouth waters for their delicious salads. My personal favorite is a salad of mixed greens topped with seasoned tiger prawns, avocado, red onion and wonderful fresh fruit.
From either of these two restaurants, you will be blown away by the view of the harbor AND Mt. Rainier!!! They both offer simply the best views in Gig Harbor!
The Waterfront Inn is also located very centrally to everything in Gig Harbor. While I stayed there, I also just drove up to the Tom Taylor YMCA for my workout. Super convenient!
Do you have any questions about living in Gig Harbor? REALTOR® Erin Goodwill is happy to chat! You can get in touch with Erin here and at (206) 595-2015.